WELCOME TO SPRINGWIND IMMIGRATION
CONSULTING SERVICES INC.
Immigration Company in Scarborough, Toronto (ON)
We are an immigration firm that helps prospective international students and immigrants realize their dream of coming to Canada to study, work, live and settle. We strive to provide the best services with professionalism, efficiency, reliance, and responsiveness to our customers. We provide credible and affordable solutions to your individual cases.
Our Immigration Firm offers reliable Canadian Immigration Services to clients across Scarborough, North York, Toronto, Richmond Hill, Markham, within Canada, and Worldwide.
Our Mission
At Springwind Immigration, we provide excellent customer service that lets you feel rejuvenated just like spring breeze; we offer outstanding professional guidance and knowledge to you just like how spring rain gracefully nourishes all living things. Finally, we aim to obtain the upmost success for you in your immigration journey!
As a registered immigration company, we provide professional legal advice and assistance. You can put your trust in Springwind Immigration Consulting Services Inc.
Our Advantage
The elite Springwind Immigration team is committed to providing the most genuine and honest immigration advice. We are committed to helping customers study, work, and immigrate to Canada. We have plenty of resources and an experienced consultation team to help you along the road. For example, we provide one-stop services which includes after-arrival settlement services to help newcomers adapt to new life in Canada.
Based on the latest immigration policies and policy trends, the elite Springwind Immigration team will recommend the fastest and most practical immigration solutions according to different clients' qualifications and situations. We provide electronic filing of applications, allowing you to enjoy efficient, real-time, comprehensive services that are tailored to your needs of coming to visit, study, work or immigrate and settle in Canada.
CLIENT TESTIMONIALS
Successful Cases
We have helped many clients succeed in their dreams. The following are some samples of approved letters from IRCC.
MD ABU BAKAR SIDDIQ Mizan

Ms. Truong

Preetham Motepalli
My Review:
First of all, it is a little difficult for a Bangladeshi citizen to get a visitor visa for Canada. For this purpose, I started looking for an immigration lawyer and then I found this firm through my friend. When I talked to Ms. Jenny Lin's (CEO & Founder &RCIC) and Mr. A.K. Azad's (Consultant Assistant) to discuss my visitor visa. I was concerned about my lack of documentation. After the consultation, I felt comfortable with Ms. Lin about her legal advice. In particular, based on my education and work background, Ms. Lin suggests me to look for professional conferences that I can attend in Toronto and she assist me with the research. She recommends several conferences and I chose one that I am particularly interested in. She even bought the early-bird conference e-ticket for me in Toronto, which saved me almost a thousand dollars. She wanted my visa to succeed for the first time without any concern. All the process run smoothly, they helped me with everything and I got my visitor visa for five years really fast. They charge a totally reasonable fee for the work that needed to be done and I never felt like I spent too much money on the consultation and subsequent application. I have had a very good experience with this firm. They were really professional with my case and I'm really thankful for all their help. Ms. Lin adequately prepared my application & documents and submitted it online.
I didn't see Ms. Lin face to face until I got my visa. I met with her directly when I went to Canada.
She spent extra time for me and her hospitality was extraordinary to me.
Recommendation:
You will not find better immigration consultant than Ms. Jenny Lin and her staff! They became more like friends to me. Jenny is truly amazing. She is extremely knowledgeable and experienced in immigration field. She is always available via email or messenger, answers all the questions in details, and during meetings she is always prepared and will spend extra time with you. She will not just collect your money and forget about your plan. She will be in touch, guiding your whole process until full success. I will definitely hire Jenny again for my any future plan and I recommend her to anybody.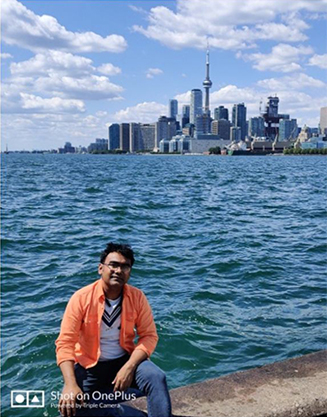 My experience at tour in Toronto, Canada:
Springwind Immigration provides after-arrival services. I was so happy to see Azad when I arrive in the Toronto Pearson airport. He came to pick me up. I was only in Toronto for 6 days and from everything I experienced, I loved the people, the charming city, the weather, I specially liked my incredible experience in attending the three days conference on block chain at Rebel Entertainment Complex, 11 Polson Street, Toronto. After conference is finished, I enjoyed helicopter ride, hop-on hop off bus tour, shopping, Niagara Falls, Bengali foods etc.
Azad acted as my tour guide.
Hi Azad, thank you very much for a wonderful experience in Toronto. I enjoyed every moment, from the time you picked me up at the YYZ Airport until I returned to Bangladesh a week later. I just wanted to say a very big thank you to Springwind Immigration Consulting Services Inc. for a wonderful time on my tours. I didn't feel lonely because of your companionship.
Hi Jenny, as I have discussed with you about my brother wants to immigrate to Canada as well, he is right now considering 3 options:
Investment in Quebec
PNP in Atlantic
PNP in Manitoba
I have talked to him about how amazing you are as an RCIC who always try to find the best solutions and options for your clients like me. You can find in the CC section his email and I'm sending this email to both of you as from now on you can directly communicating with each other. Please tell him what information you need to know about him order for you to identify the best option for him. Thank you Jenny!
I have 10 backlog credits for my university study. It shows on my transcript. I have over 6.5 IETLTS scores. I wanted to study a Graduate Certificate Program in Canadian college, ideally with Business Analytics or Big Data Analytics. Ms. Lin told me right from the beginning that it is difficult to get admitted especially since Big Data Analytics and Business Analytics is very popular program, and also because I did not take any statistic course in my university study. She suggested that she expand the program search a little wider and I should also consider programs likes information technology network security. It is proven to be true. She helped me applied for five college programs. Three of them are in Business Analytics, which were all rejected for exact the same reason that her concern is. She helped me applied for the other two program in Information Technology Network Security, one from Lawrence College and one from Conestoga College. I was accepted into both programs. At the end I chose Conestoga College. My study permit got approved. Now I have enrolled in the program and started study. I liked the program. I can not thank her more than enough. Because before I came to her, I contacted many immigration agencies in India, and none of them were able to give me as much instruction as Ms. Lin did. Ms. Lin is very professional and patient. I will recommend her to anyone who need admission to Canadian schools.